Medley 125 ABS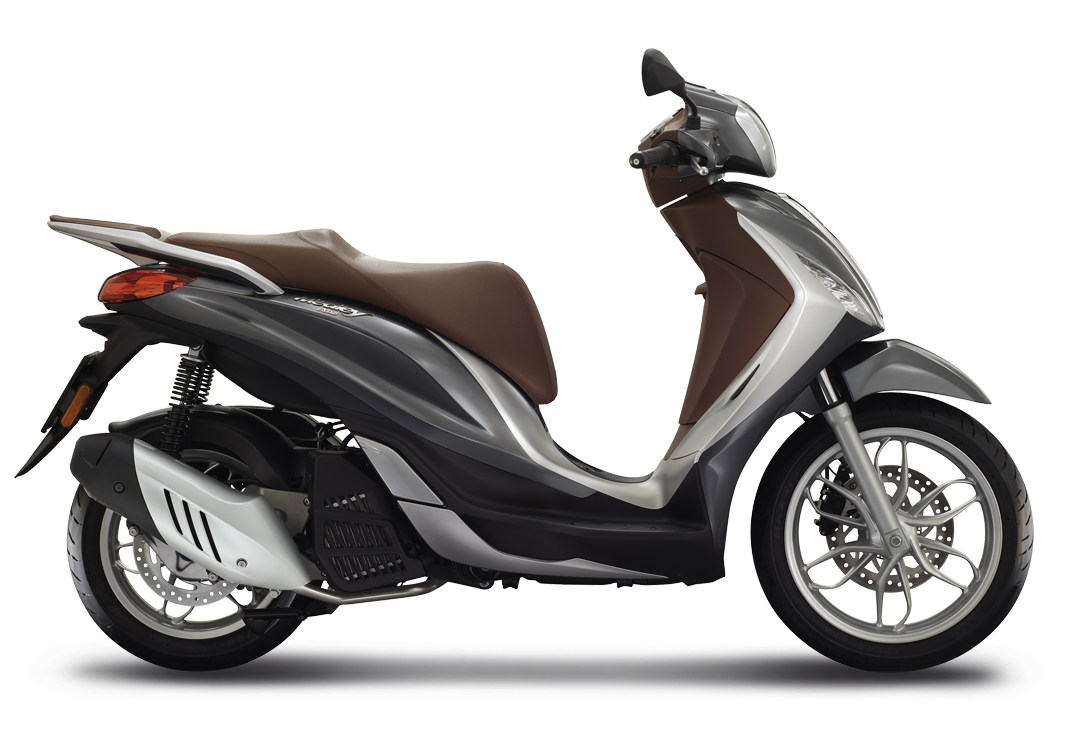 SILVER

NEW BLUE DEEP
Stop-Start system
The Stop-Start system used by the Piaggio Medley 125 ABS is named RISS (Regulator Inverter Start and Stop) and was designed so that the engine automatically turns off after 3-7 seconds of stopping. Then, once you're ready to go again, all it takes is the lightest twist of the throttle to set the single cylinder engine in motion. Perfect for the erratic rhythm of city driving.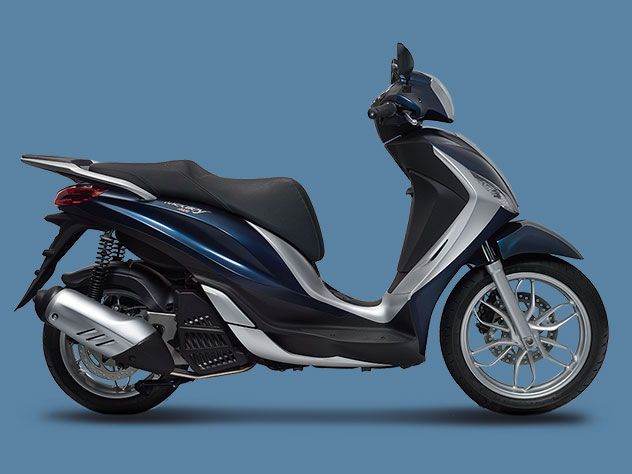 Two-channel ABS
The braking system of the Medley 125 ABS consists of discs of 260 and 240 mm with dual piston floating calliper and ABS anti-lock, meaning both wheels have a sensor which detects any wheel slip in the tyre. It will then avoid any grip loss by managing the pressure on the brakes. If there is a fall, the tilt sensor deactivates Stop-Start, turning off the engine.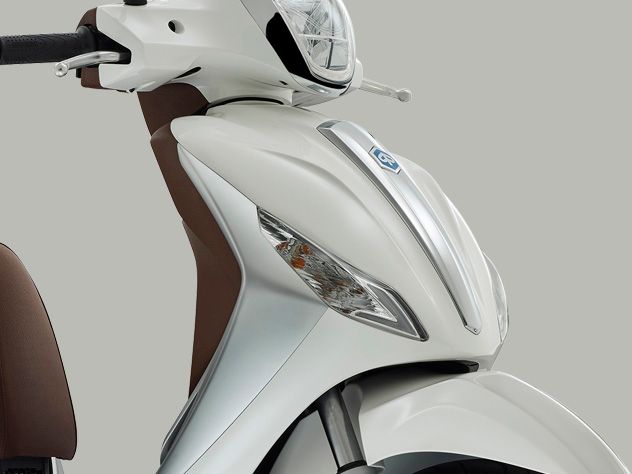 Plenty of room on board
The rear of the Piaggio Medley 125 ABS may seem neat and contained, but appearances are deceptive and it conceals a spacious underseat compartment able to comfortably hold two full-face helmets. To accommodate this, the fuel tank has been moved to the centre of the footwell. The rear shield and handlebar are designed to match the seat colour and in the glove box of the is a USB socket allowing you to charge your phone on the go. You'll also find a handy retractable bag hook.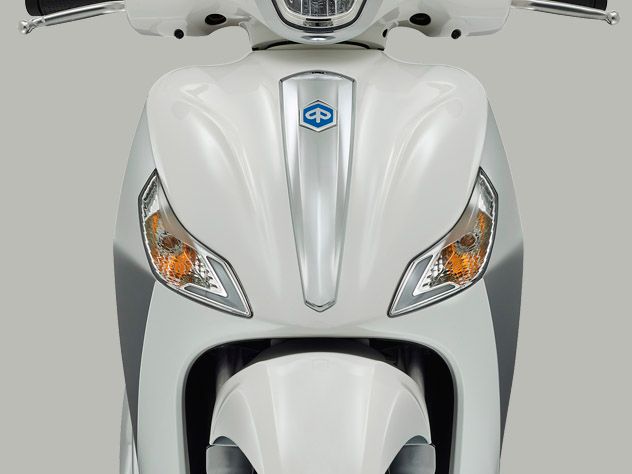 Everything under control
The instrument cluster of the Piaggio Medley 125 ABS is centred around a digital display which hosts a comprehensive set of information (total and trip odometer, outside temperature, service icon, digital clock, battery status and "danger of ice" icon), all easily accessible via the Mode button on the electric panel on the right hand side. It's complemented by analogue instruments comprising speedometer, fuel gauge and temperature level.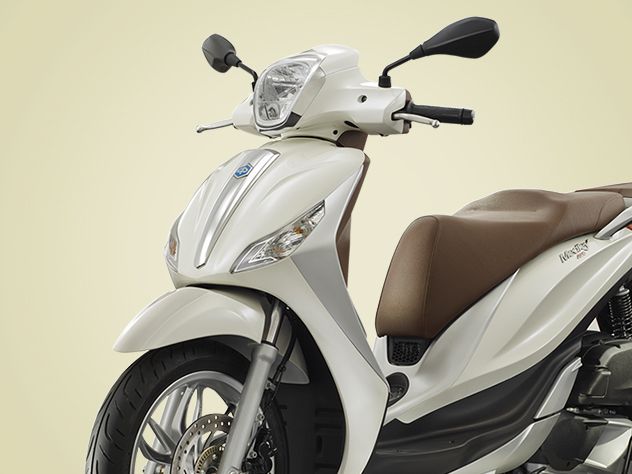 The gear
Unique style, extremely practical, easy and safe to ride. These are the traits which distinguish the Piaggio Medley 125 ABS, a scooter which combines the characteristics of a light high wheel with the superior features of the next class up.
It's powered by a four-stroke single cylinder 125-cc engine using i-get (Italian Green Experience Technology) and the Start-Stop system which automatically shuts off the motor when stopped at traffic lights, and then automatically restarts at the lightest touch of the accelerator.
The research which has gone into ensuring not only outstanding performance but also reduced fuel consumption has also not neglected safety: the braking system consists of two discs (260 and 240 mm in diameter) with dual piston floating callipers and dual-channel ABS.
And let's not forget style and the practical aspects with the LED parking lights and spacious storage capacity. The roomy compartment in the rear shield includes a USB socket whilst under the seat is a space easily able to hold two full-face helmets and there is also a handy bag hook.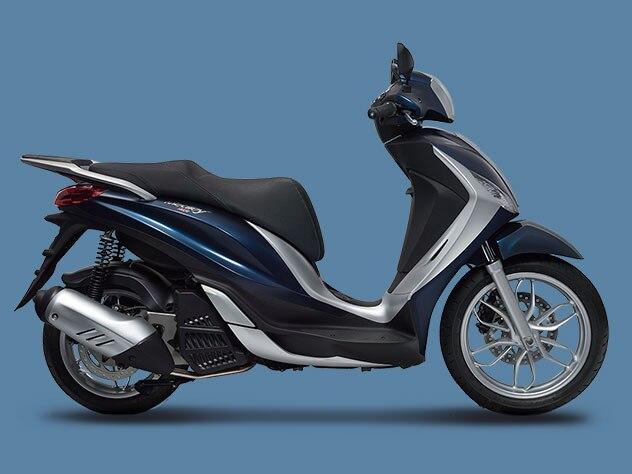 Technical specifications
Engine

Piaggio i-get, four-stroke single cylinder with Stop-Start

Bore x stroke

52 mm x 58,7 mm

Torque

11,5 Nm / 6.500 rpm

Fuel system

Three-valve single overhead camshift (two for intake, one for exhaust)

Fuel supply

Electronic injection

Consumption (WMTC cycle)

47,5 km

Transmission

Automatic CVT

Clutch

Automatic centrifugal dry clutch

연료 소비량

47.5 km / l (WMTC 사이클)
Chassis

High strength tubular steel single cradle frame with reinforced pressed plates

Front suspension

Hydraulic telescopic fork , 88 mm

Rear suspension

Double hydraulic shock absorbers with adjustable preload with 5 settings, 76 stroke

Front brake

Ø 260 mm-disc with dual piston floating calliper, 2 x Ø 25.4 mm

Rear brake

Ø 240 mm-disc with dual piston floating calliper, 2 x Ø 22 mm

Braking system

Dual-channel ABS

Front tyre

Tubeless 100/80-16"

Rear tyre

Tubeless 110/80-14"

Length / width

2.020 mm/705 mm

Fuel tank capacity

7 litres (includes 1.5 reserve)