MP3 300 HPE Sport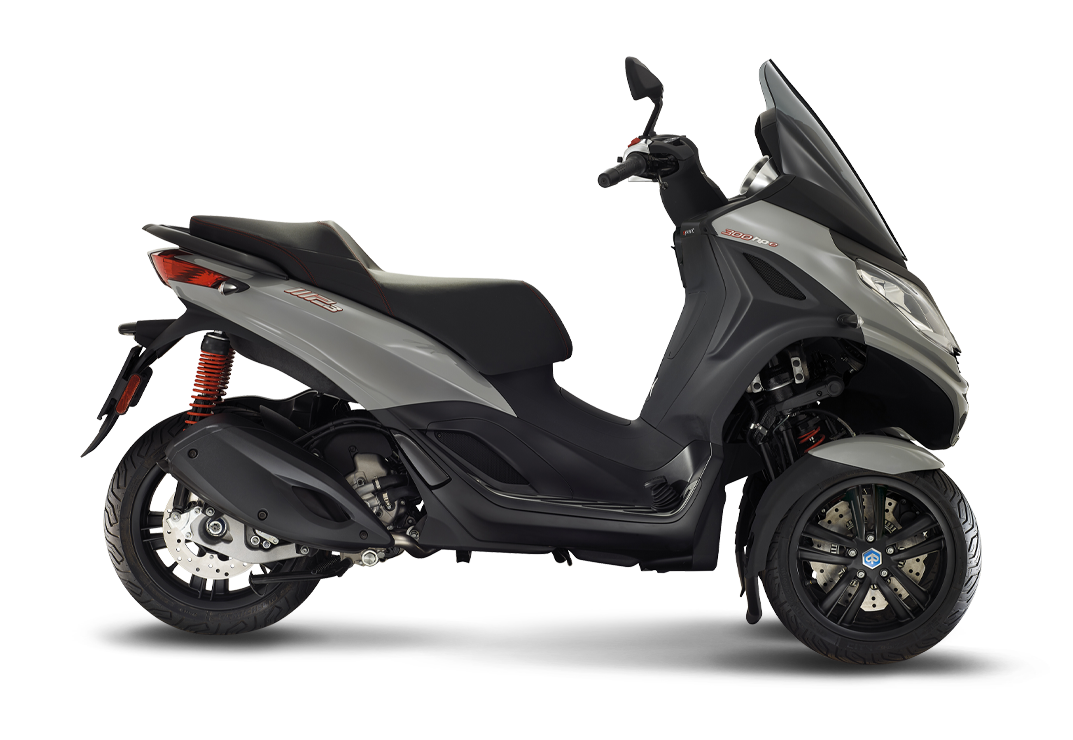 GRIGIO MATERIA

BIANCO LUNA

NERO METEORA
More power than ever
The new four-stroke, four-valve, liquid-cooled 300 cc HPE (High Performance Engine) with electronic injection delivers maximum performance and greater control over fuel consumption. it also provides exceptional throttle response and fantastic speed, making it ideal for motorway travelling and any type of trip.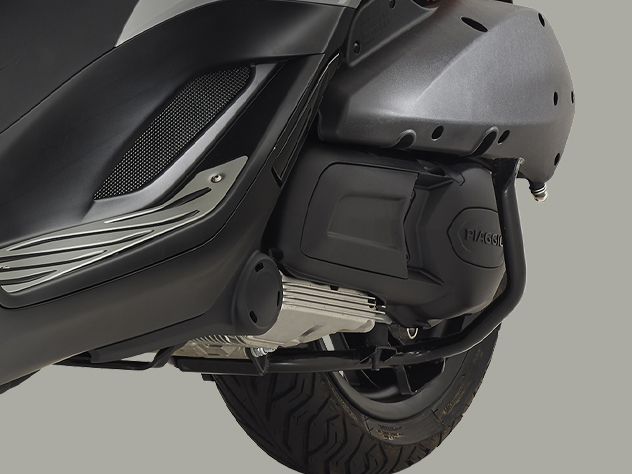 Sporty Personality
Matt black detailing, such as the front shield "tie", the strips on the central tunnel and passenger handgrips, give this bike a distinctive sporty appearance. The front and rear shock absorber springs in vibrant red and the contrasting seat stitching are further clues to its power and punch. Last but not least are the waveform front brake discs and footrest with aluminium inserts, two of just many standard features.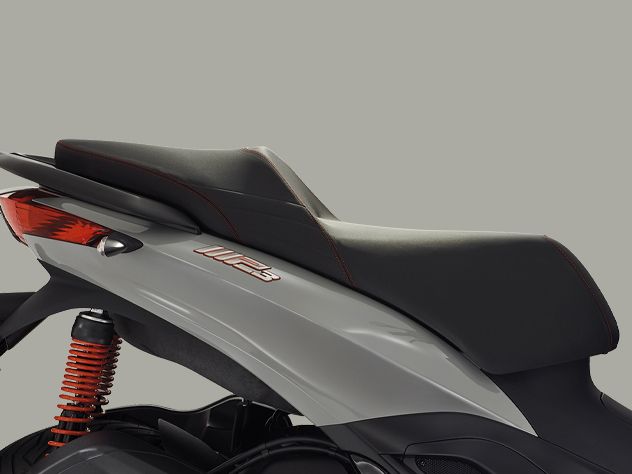 Stay Connected
The Piaggio Mia multimedia platform comes as a standard feature on the Piaggio MP3 300 HPE Sport and connects your smartphone to the bike's electronic system, effectively transforming it into a powerful data tool. You can access maps, your trips, keep an eye on wear and tear, tyre pressure and the general state of your bike at the tap of a button. And that's just a taste of the functions you have at your fingertips!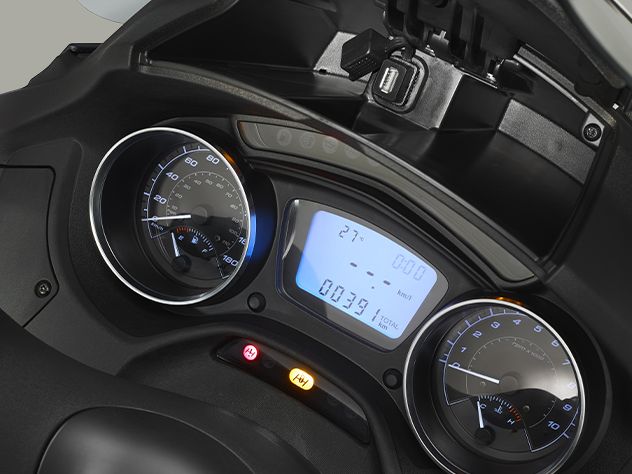 Comfort on the road
The Piaggio MP3 300 Sport provides the ideal mix of comfort and function, starting with the newly designed two-level seat and the support stand which is now even safer and easier to use. We challenge you to find a more comfortable riding set up in this category! The passenger riding experience is better than ever with an enhanced relaxed position resulting not only from the elevated seat but also the extractable foot pegs which fold away neatly. To top it all off there is the integrated ABS and ASR (Acceleration Slip Regulation) traction control combination for exceptional safety on even the most dangerous surfaces.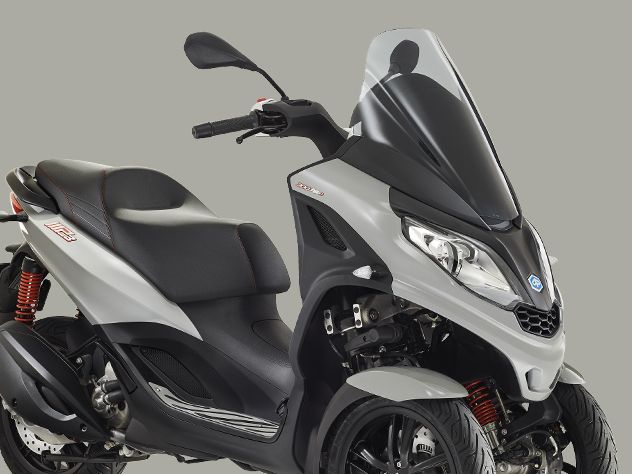 Ready for Action
Modern, sporty design blends seamlessly with a bold front chassis to create sleek, lightweight lines. The front of the bike, with its unique double wheel combination, takes on a more nimble aspect thanks to its mudguards with their sporty outline and the coloured bodywork. LED lights and an ample LCD display are testament to the increasing role technology plays and its athletic prowess. The bottom line: this is a dynamic, agile bike which delivers an extraordinary riding experience with no call for compromise.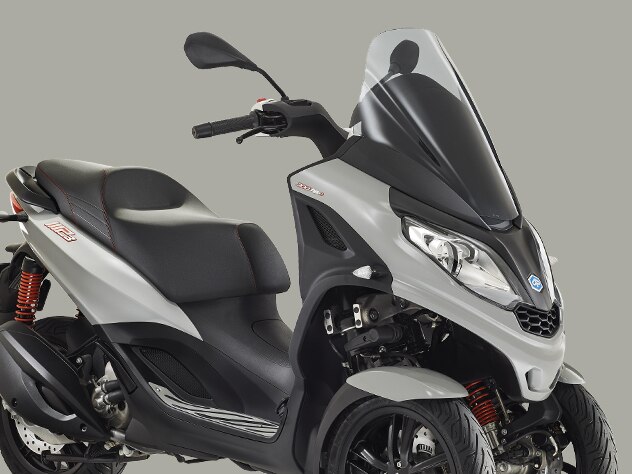 Technical specifications
Engine

Piaggio HPE single-cylinder 4 stroke

Bore x stroke

75 mm x 63 mm

Max output

19,3 kW (26,2 HP) at 7750 rpm

Max torque

26,0 Nm at 6500 rpm

Valve gear

Single overhead cam shaft (SOHC) with 4 valves and roller tappets

Fuel supply

Electronic injection

Ignition

Electronic with inductive exhaust and variable advance integrated in the injection CPU. Closed loop system with Lambda probe for the exhaust. Electronic immobilizer, block of injection pump when the vehicle is tilted. Traction control (ASR)

Transmission

CVT with torque server

Clutch

Automatic, centrifugal dry clutch
Front suspension

Articulated quadrilateral - Nominal axial stroke: 95 mm. Electro-hydraulic suspension blocking system.

Rear suspension

Dual hydraulic shock absorber with pre-adjusted spring in one of 4 positions – Nominal axial stroke: 122 mm

Front brakes

Two 258 mm discs

Wheel rims

Front: Aluminium alloy 13" x 3.00/ Rear: Aluminium alloy 14" x 4,50

Braking system

ABS with braking integrated with the pedal

Front tyres

Tubeless 110/70-13"

Rear tyre

Tubeless 140/70-14''

Length/Width

2000 mm / 800 mm

Fuel tank capacity

11 litri